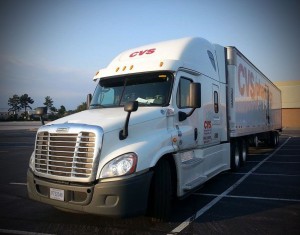 Dr. Christopher Carraway, a member of the National Registry of Certified Medical Examiners, offers DOT physicals by appointment during our normal hours at our office, conveniently located at 2507 Neuse Boulevard in New Bern.
The Certified Medical Examiner's responsibility is to ensure the safety of both the commercial driver and the other drivers sharing the road with him, making sure the driver is medically fit for duty and not at risk of incapacitation while driving.  This comprehensive examination helps detect the presence of physical, mental, or organic conditions that can affect the driver in the safe operation of their vehicle.
We can usually get a driver in within 1-3 days of your call and each examination takes approximately 45 minutes to complete.
Please call (252) 636-2900 for available appointments.
Basic Requirements to Pass a DOT Physical
At least 20/40 correctable vision in each eye, as well as both combined.  Glasses or contacts are allowed.
Ability to distinguish colors found on traffic signals.
Forced whisper test to detect adequate hearing.
Controlled blood pressure under 140/90.  Prescription medication may be used to control blood pressure.
Cannot have diabetes that requires insulin injections.
Maximum blood sugar level allowed is 200.
No use of a schedule I drug (controlled substance), amphetamine, narcotic or habit forming drug.
For any exemptions for vision, diabetes, etc., please bring the exemption to your physical exam.

How to Prepare for Your DOT Physical
Good planning will help you experience an efficient and streamlined exam process.  Please do not wait until your medical certificate is about to expire to schedule your physical!  Some situations will require extra time, such as if we need to request information from your primary care physician, or need to refer you for additional testing or vision services.

Before Your Appointment:
Make a list of any pre-existing medical conditions, including any significant injuries, medical emergencies, and anything dealing with fainting or a history of anxiety.
Contact information – Make a list of the names and phone numbers of your healthcare providers.
Medications – List all the prescription medicines you take, including strength, dosage and prescribing doctor. If you regularly take over-the counter medications, such as antacids or allergy pills, list them, too.
Diabetic Condition – Prepare a list of your medications, a copy of your most current A1C blood test (within 3 months of exam), and the name of your prescribing doctor.  (Injectable insulin dependent diabetes is disqualifying.)  
High Blood Pressure – Prepare a list of your medications and the name of your prescribing doctor.  (Blood pressure greater than 180/110 is disqualifying.)
Heart Condition – If you've had a heart attack or cardiovascular disease, you'll need to bring a copy of your latest stress test and EKG results, as well as a list of medications.  We will need to obtain a release from your cardiologist.
Sleep Apnea – Bring a copy of your latest sleep test results and treatment documentation showing compliance and control.  We will require a printout from your CPAP machine and a release from your treating physician.  Satisfactory compliance includes 4 or more hours of CPAP use per night for 70% of days, AHI (apnea hypopnea index) less than 20, no daytime sleepiness, and at least yearly followups with the treating physician.
The Day of the DOT Physical:

Remember to bring any test results and special circumstances or exemption letters from your doctor, as well as your medications.
Remember to bring your eye glasses (it's surprising how many people forget this!)  If you wear contacts, you are required to have a pair of glasses as a backup. (To pass, you must have 20/40 correctable vision in each eye.)
If you wear hearing aids, please bring them, along with extra batteries.
Drink plenty of water; we will need to perform a urinalysis.
Take any required medications prior to your visit, including blood pressure meds.
Bring your driver's license.
Be sure to wear comfortable clothing to your appointment (you may need to change into a patient gown for part of the exam).
During your physical, it is important to tell the doctor if you have any pre-existing medical conditions that could interfere with your ability to work.
Please call our office if you have any questions about preparing for your DOT physical.  
We will strive to process your exam as quickly as possible and determine your certification the same day.  Having your letters and test results from your treating physician on the day of your exam will help us certify you more easily and will save you time and money. If you do not have the required information, we will not be able to certify you until we receive it.  If we have to disqualify you, or if your current medical card expires while we try to obtain your medical information, you will require a new physical to become certified.