HydroMassage is a fully customizable system that gives a powerful, heated, relaxing water massage in as little as 15 minutes. You enjoy all the benefits of traditional massage while remaining clothed and comfortably dry as powerful waves of water are directed at specific areas of the body. Your experience includes the HydroMassage TouchScreen, a completely interactive, multi-media control device that allows you to listen to music, watch videos, or play games and control every aspect of the massage with just the touch of a finger.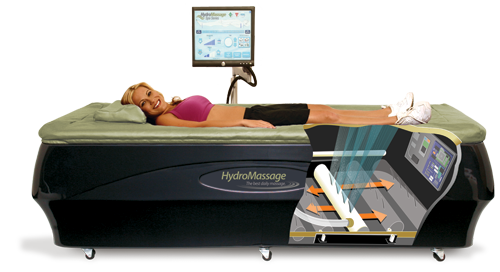 You can enjoy HydroMassage with or without a chiropractic treatment, before or after work or even during your lunch break…anytime!

HydroMassage is Therapeutic – A massage helps to relax muscles, increase blood circulation, and relieve muscular pain and tension.
HydroMassage is Comfortable – You enjoy your massage fully clothed and in complete privacy. All you have to take off is your shoes!
HydroMassage is Affordable – A single session (15 minutes) is only $15.00.
HydroMassage is Convenient – You can enjoy HydroMassage in just 15 minutes; you don't have to set aside a large part of your day for the massage.