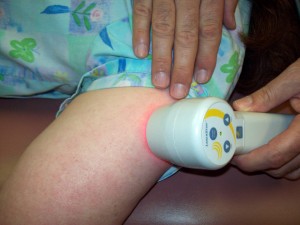 Low Level Laser Therapy (also called "Cold" laser) is a painless, non-invasive, drug-free treatment which is used to treat a variety of pain syndromes, injuries, wounds, fractures, and neurological conditions. It is used for relieving acute and chronic pains, increases the speed, quality, and tensile strength of tissue repair, increases blood supply, stimulates the immune system, stimulates nerve function, helps generate new healthy cells and tissue, promotes faster healing, and it helps reduce inflammation. It has been used successfully for 40 – 50 years and is FDA cleared.
CONDITIONS TREATED WITH LOW LEVEL LASER THERAPY:
Arthritic Pain
Back and Neck Pain
Knee, Shoulder & Elbow Pain
Carpal Tunnel Syndrome
Shingles-related Pain
Sciatica
Fibromyalgia
Tendonitis
Headaches
TMJ Pain and More
Frequently Asked Questions:
Is it safe? Absolutely. Low Level Laser Therapy (LLLT) is FDA cleared, and there have been no reported cases of negative side effects.
What does a laser treatment feel like? The laser used in our office produces no heat; therefore, most patients feel nothing at all. Occasionally, someone may say that they feel a slight tingling or warmth.
How long does it take? The number of laser sessions per patient can range from 1 to more than 10. Many times, patients see marked improvement after just one session.
Does my insurance cover it? While Low Level Laser Therapy is FDA cleared, most health insurance companies do not cover this treatment currently. In most cases, a laser treatment costs less than a typical insurance co-pay.
Who else is using low level laser therapy? NASA, the Navy Seals, Special Operations, Special Ops Submarine Corps, Olympians, professional athletes…and now you can too!